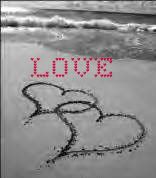 what is love anyway?
we all have our own idea of what we think it is. but what is it?
Scripture says that God is love! (I john 4:8) but, what good does that do us if we do not know God. then, all we do is make up what we think that God is like from our own experiences in life and that gives us our idea of what love is. then our idea of what love is, is as warped as our idea of who God is.
this time of year people are thinking about love a lot because valentine's day is quickly approaching. we all have our idea of what we would think a perfect valentine's day would be like; spending the day with that special person that we want to make us feel especially loved. and, many times our hearts' expectations are much higher than the real experience of the day and can leave us disappointed. those expectations come from our idea of what we think love should be like and the reason that there is usually some disappointment is because we are looking to someone else other than Love Himself to make our hearts complete. or, we eliminate all expectations of the day because we have been disappointed so many times before that we think it will be a better day if we expect very little.
i love my husband very much and can not imagine my life without him. he is a wonderful man and makes me feel very loved. but, there was a time in my life when that was not the case. it was not so much his lack of efforts in making me feel loved but my expectations in feeling loved were so wrapped up in him completing that in me that he could not have possibly lived up to what i expected from him. that left me feeling so disappointed so many days in my life. it wasn't until i realized that i was looking to him to make my heart complete instead of the only One who can do that in me that everything changed for me. i began to recognize that God was love and if that was the case then why was i looking to someone other than Him to be perfect in expressing love to me.
I did not really understand how to turn my heart to God to love me because I thought His love was just like everyone else's. my understanding of his thoughts toward me was warped because i did not understand what Love really was. so, i began to ask God to show me what Love was and help me look to Him to bring fulfillment to my heart. He showed me that all my Love expectations could be met in how He felt about me. He was love! perfect Love! and He never has feelings or acts in any way other than Love at any point! EVER! how He feels about me never changes. no matter how i was behaving, he was thinking love thoughts toward me not just because He had to but because that is what He truly thought and Who He was. i was overwhelmed with His unconditional feelings of adornment toward me. all that my heart had ever wanted in feeling secure in a loved position was beginning to me met in Him.
When i began to turn my heart to Him to make me feel like the cherished woman that i desired to be, i began to experience love that surpassed all of my expectations. my heart began to feel complete in Him. i released my husband from the bondage that i had created for him and began to enjoy his efforts in loving me instead of being disappointed in them. his expression of love toward me became the icing on the cake, the above and beyond, the over and above because i was already feeling more loved than i thought was possible in my relationship with God. now valentine's day is never disappointing to me. it is not the day to put huge expectations on anyone, it is a day to celebrate and experience the Love of God and express that completeness of our heart in loving others as well. that is what true Love can do for us! make our hearts complete and enable us to enjoy the expression of other people's love toward us in whatever capacity they are able to give it.
now that is Love!