several weeks ago i received this award from a wonderful blogging friend of mine maryleigh from
blue cotton memory
. she is a momma of five boys and writes of her daily pleasures and struggles of raising them for the Lord. her writing is delightful to read. she is a great blogging friend.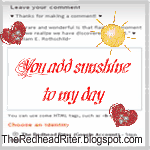 use this code to take this bling of an award!-- <"img src="http://i622.photobucket.com/albums/tt308/TheRedHeadRiter/commentboxBUTTON-1.gif"/"> you have to remove the quotation marks at the beginning and the end of the html in order for the button to pop up wherever you want to put it.
there are no rules to this award. it is just a blessing to those who have blessed you with their comments, encouragement, or inspiration from a writing in their own blog. i would love to pass this award along to all of my blogging friends and followers who have stopped by and made my day a little brighter by their presence in my blogging world. i am always so touched when you stop by and even more so when you comment and let me know you touched my world. so, please accept this award and pass it along to those who add sunshine to your day.